Hi everyone! Summer school is as intense as I thought it would be, but I have two week off so hopefully I'l be able to tackle my huge review list. It's really pathetic!
I'm happy to host Ms. Alicia Brewster on my blog today! I hope everyone enjoys the interview and finds a new book to add to their TBR, I know I can't wait to read
Don't Call Me Angel!
:D
Interview with Alicia Brewster
DL: Where did you get the idea for your novella, Don't Call Me Angel?

AB: There are a lot of stories out there about angels who happen to be
fallen. Most of them deal with angels who fell long ago, or the
stories are in the points-of-view of characters other than the fallen
angels. I started to think about how traumatic being cast out of
heaven must be for an angel, and that spawned Don't Call Me Angel.

DL: With the sudden increase in angel fiction, how do your angels
differ from those in other novels?

AB: My angels are fallen—seriously fallen. And it's not something that's
in their past and no longer affects them. The bad ones are fallen for
a reason.

DL: Where were you when this idea came to you? What were you doing?

AB: It didn't come to me all at once. The ideas for this book and the
whole series came to me in bits and pieces. One scene in particular,
though, came to me when I was working at my day job. It was like I
could hear one of the characters in my head, telling me how to
introduce him. That's Luke. He doesn't take "no" for an answer.

DL: What do you think is Six's best quality?

AB: She's sensitive. She's been hurt, and she doesn't like to see others
hurt. On the other hand, she doesn't have a lot of experience fighting
evil, and she struggles with the differences between right and wrong.

DL: In three words describe Alden.

AB: Selfish, self-indulgent, free.

DL: Why should readers read your book?

AB: It's a fun, quick read.

DL: Where do you do most of your writing?

AB: I write whenever and wherever I have the opportunity. Mostly, that's
at home in front of my television, with the volume turned down so I
can barely hear it. But I can work anywhere. Bits and pieces of my
current manuscript are stored remotely on Google documents, and I
sometimes write on my mobile phone when I'm out and about.

DL: What's your favorite book that you've read this year?

AB: Grimspace, by Ann Aguirre. It's a great science fiction book for
people who are into urban fantasy.

DL: What is your thing that you're most excited for this summer?

AB: DragonCon! I have to hurry up and get my costumes picked out. i was
leaning toward Storm, from the X-Men, but I'm definitely not dying my
hair white, so I'm not sure how that's going to work.

DL: You have just recently escaped Hell, what's the first thing you do
while on Earth?

AB: I'd probably indulge in some greasy food
Thanks for stopping by Alicia, I second that greasy food! Want to hear more about
Don't Call Me Angel?
Don't Call Me Angel by ALICIA BREWSTER
After crawling her way out of Hell, Six is ready to cast aside her angel wings and all the responsibilities that come with them. But Earth is not as peaceful as she imagined it. Demons, dark angels, and other hell-beasties escaped before her, and they're not as content as she is to live a quiet life on Earth.
A fellow angel who escaped Hell with her commits a series of soul-murders, destroying human souls so they can't go to the afterlife. Although Six has conflicting feelings about humans, she goes after the other angel to keep their escape a secret from the one she fears most.
Available on Paperback, Kindle, Nook, and Smashwords
READ AN EXCERPT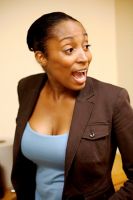 Alicia Wright Brewster is a mild-mannered lady of average height and above average paranormal obsession. By day, she works in an office. At night, she's an author, an electronics junkie, and a secret superhero. (Please don't ask what her superpower is. That's not very polite.)
In her virtually non-existent free time, she loves to read, watch movies, and eat food. She is particularly fond of the food-eating and makes a point to perform this task at least three times per day, usually more.
That's not all! Alicia is giving away two ebook copies of her debut novella Don't Call Me Angel! Want a chance to win? Enter below!
a Rafflecopter giveaway